Skip to content
10% off on all purchases (Code: ofr10) | Create New Account / Reset the Password. Click Here | Take a free consultation with our health expert : Click Here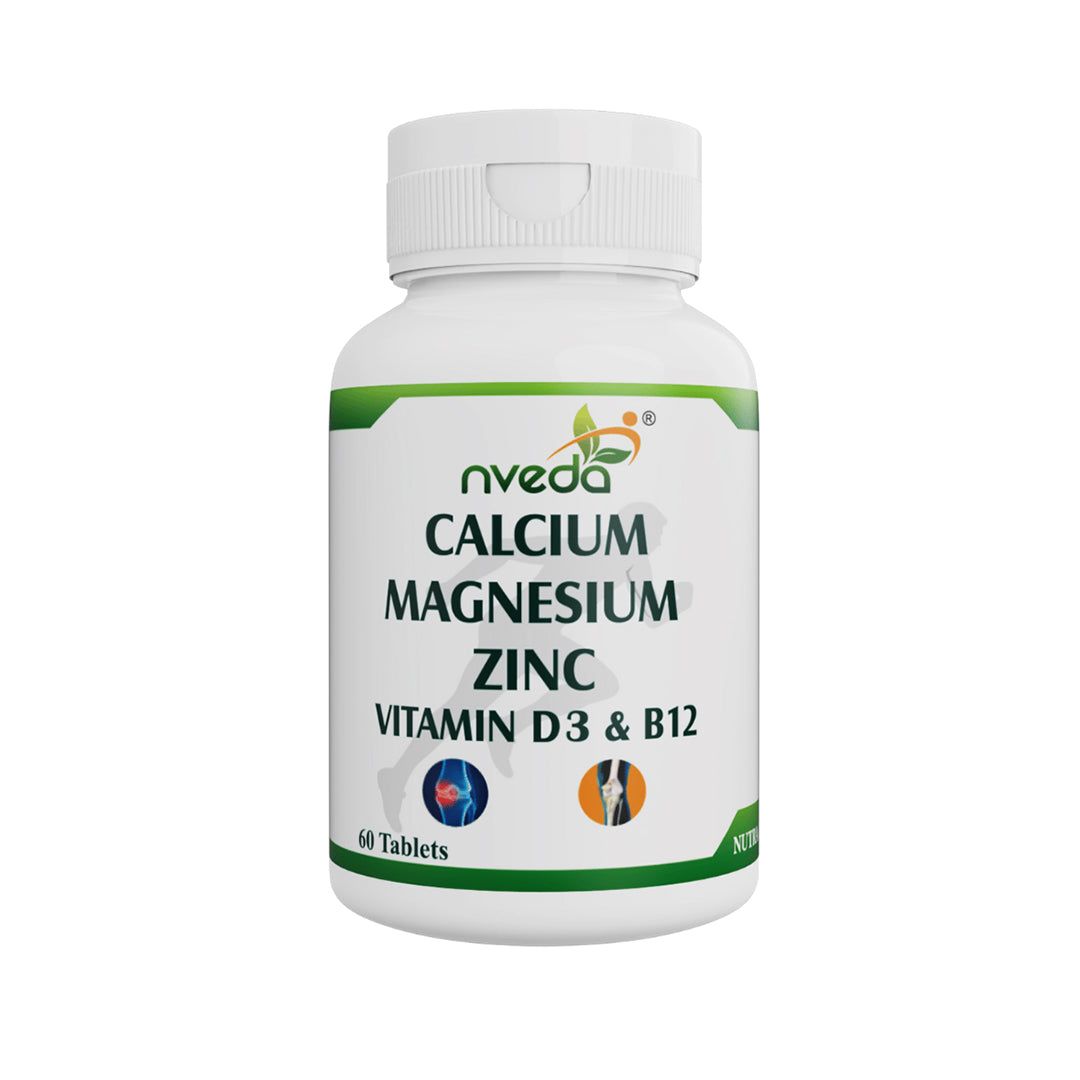 Each tablet contains Calcium Citrate 1000mg, Vitamin D3 200 IU, Magnesium 100mg, Zinc 4mg & Vitamin B12 1mcg
Improves Bones, Joints & Muscles health
Promotes Immunity, manage risk of Osteoporosis
60 Vegetarian tablet per bottle
Intake by adults for both Men & Women
--
Each tablet provides 1000mg of Calcium Citrate, Calcium Citrate provides more Bioavailable form of Calcium than Calcium Carbonate. Calcium Citrate Malate is thus absorbed most easily by the body as compared to other Calcium salts. It does not cause bloating or Calcium Deposits in the body.
Improves Bone, Joint & Muscle health: Calcium, Magnesium and Vitamin D3 in proper composition promotes healthy Bones, Muscles, Joints and Teeth. Nveda's Calcium, Magnesium & Vitamin D3 offers optimal amounts of these nutrients in very convenient daily serving.
Helps reduce Tiredness and fatigue: Vitamin B12 helps keep body's blood and nerve cells healthy.
Manage Risk of Osteoporosis: Calcium and Vitamin D3 in right combination help reduce risk of Osteoporosis. Right amount of Vitamin D is needed for body to absorb Calcium.
Promotes immunity: These tablets also contain Zinc and Magnesium in optimal quantity, these mineral help reduce inflammation and boost immunity.
Calcium Citrate 1000mg
Vitamin D3 200 IU
Magnesium 100mg
Zinc 4mg
Vitamin B12 1mcg
Help in good stamina and energetic health.
Nevada calcium, Magnesium, Zinc vit D3 and Vit B12 Tablets
This is working fine. It is too early to give the feedback
Nveda Calcium, Magnesium, Zinc, Vit D3 and Vit B 12 Tablets | 60 Tablets
I have just started too early to rate
Nveda Calcium, Magnesium, Zinc, Vit D3 and Vit B 12 Tablets | 60 Tablets
FAQ's
Why are Calcium Supplements Required?
Due to lifestyle, medications, or menopause we don't get enough Calcium thru our regular diet, this results in bone loss. On daily basis body requires 1,000 mg to 1,200 mg of Calcium, many people don't get this much of Calcium thru diet resulting in Bone Loss.

How this Supplement Boosts Immunity?
Nveda Calcium Supplement also contains Zinc, Magnesium and Vitamin D3. Zinc and Magnesium are known to help build Immune System of the body. Vitamin D3 helps in strengthening bones and muscles, boosting immunity & improving heart function.

What is the role of Vitamin B12?
Vitamin B12 is essential for building blood cells and maintaining healthy nerve cells in the body. It is required for the proper function and development of the brain, nerves, blood cells, and many other parts of the body.

When this Supplement should be taken?
Please take one tablet after Food once or Twice a day.
Usage : As a dietary supplement, take 1 Tablet twice daily after a meal or as directed by a physician.
Storage: Keep bottle tightly closed and store in a cool, dry place (under 25°C) out of the reach of children.
Manufacturer: Sai Healthcare, Village,Khera-Nihla,distt, solan (H.P)-174101
Country Of Origin: India
Best Before: Apr 2024
Net quantity: 60 Tablets
MRP: ₹ 450 (  ₹ 7.5 Per Tablet )
Dimensions of the product: 11 x 5.5 x 10 Centimeters
Each tablet contains
Energy: 0.36 Kcal
Carbohydrate: 0.09 gm
Sugar: 0.00 gm
Protein: 0.00 gm
Fat: 0.00 gm