Skip to content
10% off on all purchases (Code: ofr10) | Create New Account / Reset the Password. Click Here | Take a free consultation with our health expert : Click Here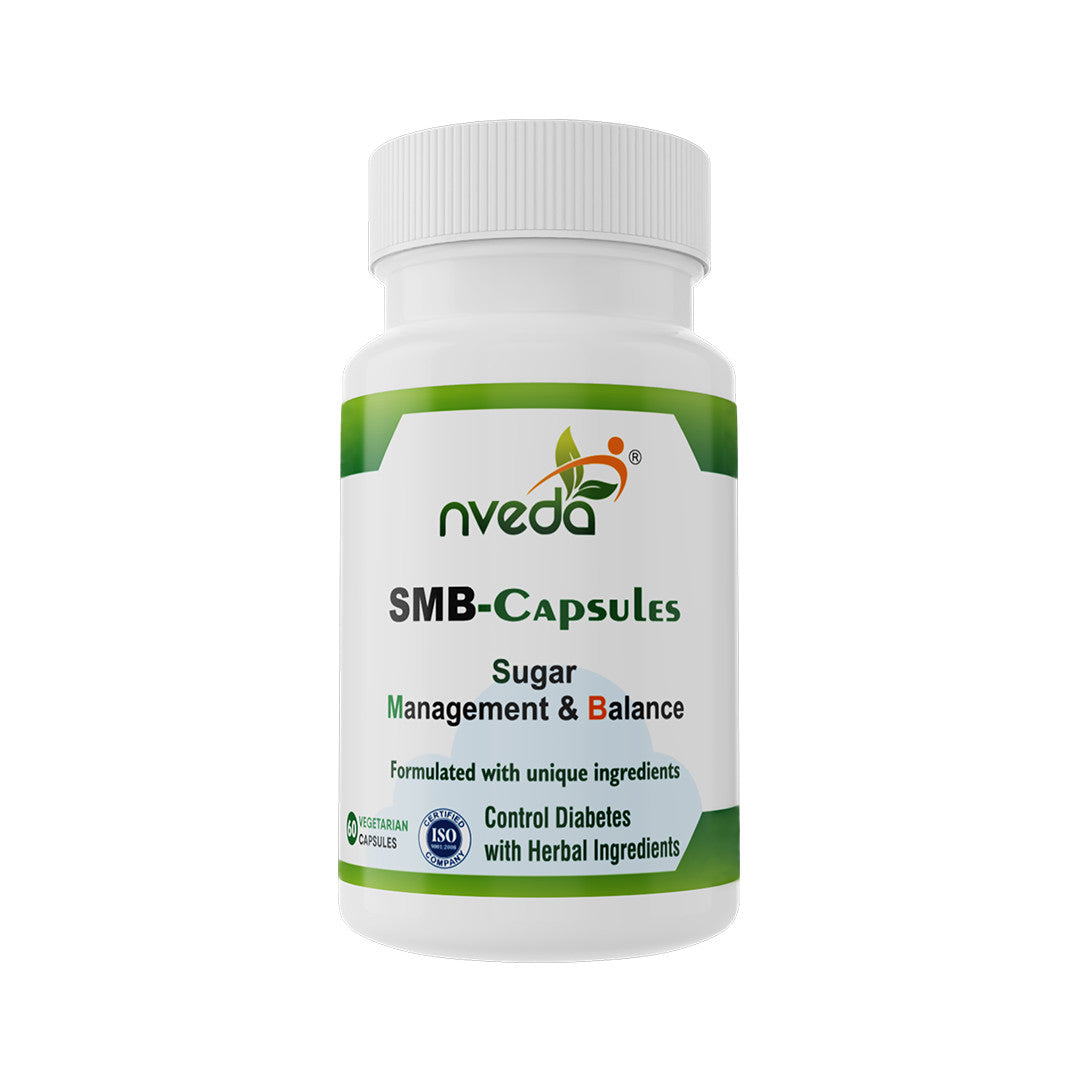 Product Details:
SMB Capsules has been certified as per the norms & Ref. of Ayurvedic Formulary of India and has also been Approved by AYUSH, Ayurvedic Govt Organization for Management of Blood Sugar.
100% top quality, all natural herbs selected from those traditionally used for Blood Sugar Control and Management.
Promotes to lower Blood Sugar Levels & Reduces Sugar and Carb Absorption.
Increased blood sugar heightens inflammation causing pain and aches. Nveda SMB capsules has herbs that help to reduce inflammation.
For Free Online Consultation - Contact: 9008652145 (Timing: Mon - Fri 9 AM - 5 PM, Sat 9 AM to 1 PM)
Ayurvedic Remedy for diabetes

Diabetes:
Diabetes is a condition where body doesn't process food for use as an energy. This results in consistently high sugar level in the blood.   
Prediabetes 

is when blood sugar is higher than it should be but not high enough to diagnose as diabetes. 

 Prediabetes  can make one more likely to get type 2 diabetes and heart disease.

Type 2 Diabetes has become quite common in last 20 years primarily due to sedentary lifestyle and food habits. Type 1 diabetes can occur at any age, although it is more common in children and young adults.
Ayurvedic Treatment for Diabetes:
Early diagnosis of diabetes helps to treat and recover from the condition using safe and effective Ayurvedic herbs. Ayurvedic medicines work on the root cause of the disease, strengthening the patient's immunity, enhancing digestion and helping to lead an overall healthy life. Along with medication, dietary and lifestyle changes are also recommended to rejuvenate the body's cells and tissues.
SMB Capsules for Sugar Management & Balance:
It is natural herbal supplement made-up of 8 herbs that have been used traditionally as Ayurvedic medicine for the treatment of Diabetes as well as for overall health.
Jamuna  ( Syzygium Cumini )
While Jamun has always been on the top in fighting diabetes, its seeds are more effective. Jamun is an evergreen tropical tree in the flowering plant family, Myrtaceae, that is native to India, Bangladesh and Indonesia. Jamun seeds are known to be used in various alternative healing systems like Ayurveda, Unani and Chinese medicine, especially for digestive ailments. Jamun seeds are known to be great healing medication for  diabetics. Jamun seeds have substances called jamboline which slows down the release of sugar into the  blood.
Daruharidra (Berberis Aristata)
Daruharidra is a popular ayurvedic remedy to treat diabetes. The herb is very popular in treating a wide range of health issues. Berberis lyceum root produces high concentrations of berberine, and in traditional medicine, the whole extract of this plant is used widely to treat diabetes. The herb is good for all kinds of diabetic issues related to skin, eye, and ear. The extracts of Berberis lycium also helps improvement in parameters like body weight and urine excreted. Berberis lycium extracts lowers fasting blood glucose levels significantly. The extracts also lowers serum SGPT, SGOT, and ALP levels which show the protective effect and normal functioning of liver in reversing the organ damage due to diabetes.
Gudmaar (Gymnema Sylvestre )
One of the primary active components in this plant is gymnemic acid, which helps suppress sweetness. Research shows that Gymnema sylvestre extracts can reduce the ability to taste sweetness and thus make sweet foods less appealing. As a supplement, it has been used in combination with other diabetes medications to  lower blood sugar. It's also called gurmar, which is Hindi for "destroyer of sugar". Similar to its effects on taste buds, Gymnema sylvestre can also block receptors in intestines and thus sugar absorption, lowering post-meal
Karela ( Momordica Charantia )
Karela is known to have anti-diabetes properties.  Karela is rich in hypoglycemic compound, which lowers sugar levels in blood. Regular consumption of Karela significantly improves glucose tolerance. According to studies, bitter gourd has a few active substances with anti-diabetic properties. One of them is charantin, which is famous for its blood glucose-lowering effect. Bitter gourd contains an compound called Polypeptide-p which has been shown to control diabetes naturally. These substances either work individually or together to help reduce blood sugar levels.
Haridra (Curcuma Longa )
Turmeric (Curcuma longa), a rhizomatous herbaceous perennial plant of the ginger family, has been used for the treatment of diabetes in Ayurvedic and traditional Chinese medicine. The active component of turmeric, curcumin, has caught attention as a potential treatment for diabetes, primarily because it is a relatively safe and inexpensive drug that reduces glycemia and hyperlipidemia. Turmeric also balances blood sugar levels, boosts immunity, reduces body fat, and prevents infection, thus helping in prevention and cure of diabetes.
Vijaysar (Pterocarpus Marsupium )  
It is said that the anti-hyperlipdemic properties of vijaysar tree help reduce total cholesterol, low-density lipo-protein (LDL) and serum triglyceride levels in the body. It also tends to reduce symptoms of diabetes like frequent urination, overeating and burning sensation in limbs. Vijaysar improves peripheral utilisation of glucose, GLUT4, Hepato glycogen levels, which ultimately reduces blood sugar levels.
Nimba ( Azadirachta Indica)
Neem (Azadirachta indica) is a member of the Meliaceae family and its role as health-promoting effect is attributed because it is rich source of antioxidant. It is used alone or combined with other anti-diabetes Ayurvedic herbs for improving glucose tolerance. Because neem is a tonic and a revitalizer, it works effectively in the treatment of diabetes as well. It plays an important role in diseases prevention and treatment through the enhancement of antioxidant activity, inhibition of bacterial growth, and modulation of genetic pathways.
Sudh Shilajeet (Purified Asphaltum )
It is the most important Ayurvedic herbal remedy for prevention and treatment of Diabetes. It is an effective herbal remedy for the treatment of diabetes and helps to improve the health conditions of diabetic patients. It helps to control the level of diabetes in a natural way. Shilajit has been traditionally used by Ayurveda to maintain the blood sugar level for the treatment of diabetes. Shilajit possess many healing properties and is used by herbalists to treat several health conditions.
| Name in Hindi/Sanskrit | Part used | Botanical name | QTY (mg) |
| --- | --- | --- | --- |
| Jamuna | Seed Powder | Syzygium Cumini | 50 mg |
| Daruharidra | Root Powder | Berberis Aristata | 100 mg. |
| Gudmaar | Leaf Powder | Gymnema Sylvestre | 25 mg. |
| Karela | Seed Powder | Momordica Charantia | 50 mg. |
| Haridra | Rhizome Powder | Curcuma Longa | 50 mg. |
| Vijaysar | Ht.Wd. Powder | Pterocarpus Marsupium | 50 mg. |
| Nimba | Stem Bark Powder | Azadirachta Indica | 25 mg. |
| Sudh Shilajeet | Niryas Powder | Purified Asphaltum | 100 mg. |
| Sodium Benzoate | | | 0.25 mg. |
| Magnesium Stearate | | | 0.37 mg. |
| Starch | | | 0.25 mg. |
Nveda SMB Capsules for Sugar Management and Balance | 60 Capsules
Nveda SMB Capsules for Sugar Management and Balance | 60 Capsules
I feel that the SMB Capsules is a very effective capsule. It has helped me reduce my Insulin intake from 32 Units to 22 units within a month.
FAQ's
WHY NVEDA SMB capsules?
It is Ayurvedic Formulation approved by Ayush, Ayurvedic Govt Organization for treatment and management of Blood Sugar. All its ingredients are known to lower blood sugar level.

THE DIRECTIONS SAY TO TAKE IT BEFORE FOOD. WHAT KIND OF FOOD? A SNACK? A WHOLE MEAL?
Either. Whatever you'd like, a full meal or a snack is fine.

HOW LONG BEFORE EATING SHOULD I TAKE IT?
30 minutes is a good rule of thumb.

CAN THIS PRODUCT BE TAKEN WHEN PREGNANT OR NURSING ?
We don't recommend any herbal product to pregnant or nursing moms. If you're pregnant or nursing, any supplement you take should first be cleared with your health care provider.

HOW DOES NVEDA DETERMINE THE "SUGGESTED USE," "RECOMMENDED DOSE," OR "SERVING SIZE," THAT ARE ON THE LABELS OF YOUR PRODUCTS?
Each product is researched carefully by product development and research team to determine the amount of ingredient to be used that is both safe and effective.
Suggested usage: 1 Capsule twice a day 30 min. before food or as directed by a Physician..
Storage : Keep in cool dry place
Manufacturer: Sai Healthcare, Village,Khera-Nihla,distt, solan (H.P)-174101
Country Of Origin: India
Best Before: Jan 2025
Net quantity: 60 Capsules
MRP: ₹ 750.00 ( ₹ 12.50 Per Capsule )
Dimensions of the product: 46 x 46 x 88 Millimeters